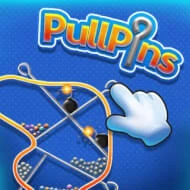 Pull Pins
ARCADE, SKILL, HARD
PLAY
Explanation for "Pull Pins"
The tough puzzle classic themed " Pull Pins " game contains unlimited difficulty and fun levels. Carefully analyze the increasingly difficult levels and plan your moves to pull the pins in the right order. But watch out! Don't let bombs touch the bubbles!

Solve all the cool puzzles!
"Pull Pins" How to Play
Pull the pins in the correct order and solve tricky puzzles.